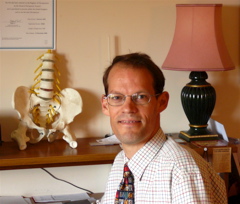 Hello and welcome to the website of Duncan Frewen. I am a Chiropractor and Homeopath practising from Northiam. My practice serves Hastings, Hawkhurst, Cranbrook, Northiam, Tenterden and the surrounding areas of East Sussex and Kent.
Chiropractic and homeopathic treatments are gentle, safe and effective because they acknowledge the fact that your body has great potential to heal itself, both emotionally and physically.
I am passionate about helping people overcome their conditions and as I have suffered problems in the past I can therefore understand the distress your condition is giving you. Since my teens I have found chiropractic and homeopathy to be more effective than conventional medicine for my own health.
In my chiropractic practice I see people with:
sciatica
chronic and acute back pain
neck and arm pain
sport and work related injuries
joint problems
In my homeopathic practice I am experienced at treating people suffering from conditions such as:
hayfever
eczema
digestive complaints (diarrhoea, constipation, Irritable Bowel)
chronic pain syndromes
anxiety states
migraine
menopausal symptoms
chronic fatigue
My goal is to work with you to achieve a better state of health. To find out more about
homeopathy
click here
and/or about
chiropractic
click here
.
To make an appointment, or to get in touch
click here
.
'Duncan's treatment will always be my first choice. He has helped me rebuild my life after having a stroke a few years ago.'
Pauline Grant, Hastings.